Frank Lloyd Wright famously stated "more and more, so it seems to me, light is the beautifier of the building". Drawing inspiration from these words, we present dapple, an extraordinary range of perforated sheet metal.
Thoughtfully designed, each pattern showcases a choreography of light, performed by deep shadows and dancing sunlight. The effect is entrancing and ever-changing.
Whilst the craftsmanship and quality of dapple will stand it apart, dapple also possesses a significant difference. dapple is primarily used on building exteriors for reasons of privacy, sun screening or beautification. It's here the science of fluid dynamics can make itself heard. When it gets windy some holes can whistle. It can become a particularly unpleasant whistle too, a penetrating pitch that is intolerable for any period of time. The likely reaction when confronted with such a noise is to place fingers in your ears and grit your teeth. It is not a noise you want infiltrating your home or office.
The complete dapple range was tested at the Insol Facade Testing Laboratory, where it was subjected to large volumes of air from NZ's only Wind Tunnel purpose-built for testing facades. From these tests, we can tell which holes whistle, when they whistle, and how loud. Which means we can tell you where you can put them. Or more importantly, where you should not put them.
Our work has led to the development of a matrix which quantifies the risk of wind noise issues. It classifies the probability of noise and associated level of annoyance, assigning a rating to each product tested.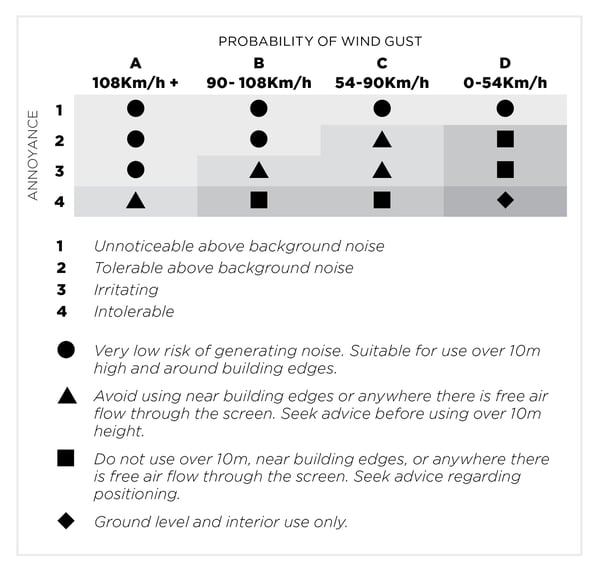 Providing a clear indication of likely wind noise annoyance offers the reassurance needed that no subsequent claims or issues are likely to arise from noise pollution. This is particularly important given the inter-connectivity in the world and issues of perceived and actual liability, often leading to physical and financial damage.
The dapple range includes textures patterns that have a distinctive woven, three-dimensional appearance for adding depth and texture. As with the perforated sheet metal patterns, all textured patterns are tested for wind noise and rated accordingly.
As dapple is only limited by the confines of our imagination, making it virtually limitless in appearance and possibilities, it can be customised to suit. For a highly differentiated aesthetic, picture perf can be developed to produce recognizable, photograph-like images through a unique arrangement of hole size and density.
The ability to influence the aesthetics of building exterior and interior though the use of ever-shifting light can introduce a sense of wonder. For this reason, we believe dapple has some real benefit in the beautification of existing buildings. We know such work will help increase the value and allure of the building, possibly helping secure tenants and attracting foot traffic (in retail areas).
But whilst there are many compelling reasons to choose dapple, at the heart of it all lies the dance of light and shadow. The ability to transform surfaces and evoke feelings. Indeed, the importance of light is likely best captured by American Architect, Louis Kahn, when we said "We are born of light. The seasons are felt through light. We only know the world as it is evoked by light".
To view the dapple range please click here.